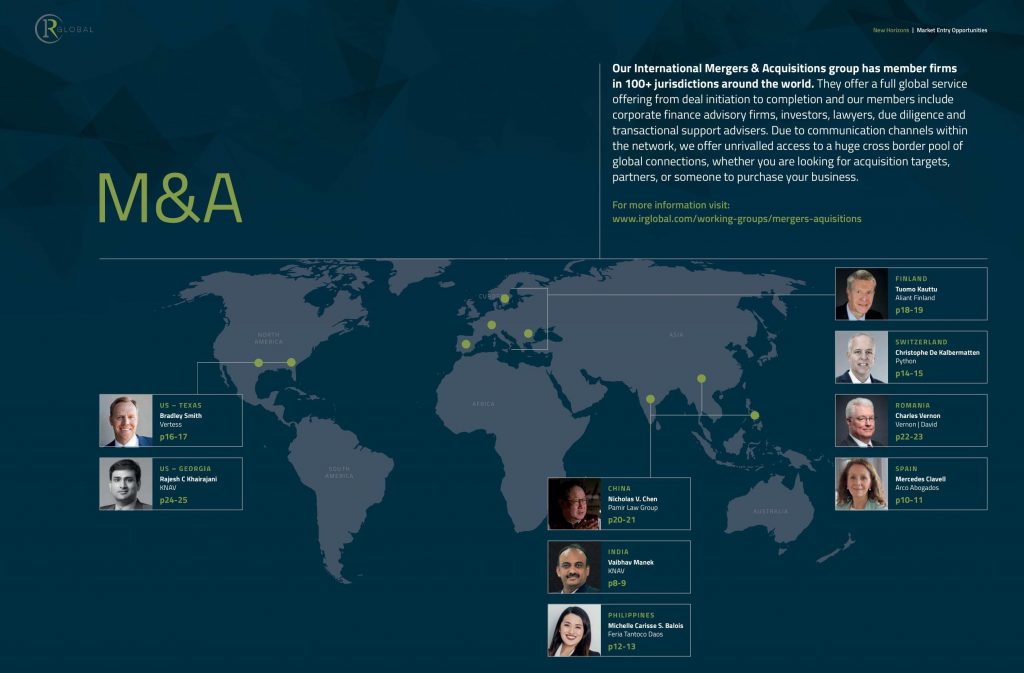 By Tuomo Kauttu, Partner, Aliant Finland.
QUESTION ONE: What are the biggest advantages of using M&A to enter new markets in the current landscape, as opposed to market entry via exporting, direct investment, subsidiaries, and other methods?
M&A provides many advantages in comparison to market entry via exporting, direct investment, subsidiaries, licensing, franchising, partnering, turnkey projects or other methods. This view applies to business executives who think in terms of markets and lawyers who think in terms of jurisdictions and methods.
M&A transaction provides regulation predictability. It is partly local and partly in common within the EU and among Nordic countries. First, the M&A immediately provides the status of local company. The acquired business is treated as a Finnish firm, governed by laws as a local corporation. Secondly, there have been no recent significant changes in the legislation or practice in relation to M&A in Finland. Regarding EU, the Commission proposed recently that the Merger Regulation will be revised to lower the threshold for national courts to make referrals concerning merger cases that have an EU community-wide element. Also harmonisation of corporate laws will increase with directive on cross-border mergers that may improve cross-border mobility and simplify the procedure of changing a company's home place within the EU. The Nordic countries have adopted the Nordic Corporate Governance Model. This governance model allows the shareholder majority to effectively control and take long-term responsibility for the company they own, including a principle of equal treatment of shareholders and transparency.
The acquisition of a local company provides also the benefits of local market knowledge and established customer base. M&A may be the most appropriate entry strategy when the target company has substantial market share, or is a direct competitor. Furthermore, through M&A the company gains access to talent, diversification of risk and faster strategy implementation. M&A growth is a simple method in acquiring technology, talent, new production capabilities and product development, R&D, brandvalue, distribution or innovative startups.
In summary, the M&A may be the best method to make a long-term strategy to become a mid-term strategy.
QUESTION TWO: The social and environmental impact of target markets are becoming a key part of M&A – what's your advice on how clients can navigate this complex area and gain full transparency?
The Finnish Corporation Act is a general corporate statute that applies to profit business corporations. There are no special corporate laws for companies creating benefits for society in addition to benefits for shareholders, or adhering to environmental purpose or sustainability. Nor does the Corporation Act itself allow a legal structure that expressly expands the purpose of the corporation beyond advancing the pecuniary interests of its shareholders. However, the Act enables a corporation to determine its purpose in the by-laws, superseding the law. It is allowed to adopt social or environmental aspects by stating it in the by-laws as a purpose, and consequently as a business field.
The social and environmental aspects become a key part of M&A when the acquirer is prepared to add the purpose clause into the by-laws of the target company. This can be agreed in the acquisition agreement and accomplished in a shareholders meeting with majority 2/3 of votes and shares being represented in the meeting. When less than 2/3 of the voting shares are acquired, it is necessary to agree on binding obligations for voting in the acquisition agreement or related agreement with shareholders, having at least 2/3 majority of the voting shares.
Such entry strategy becomes visible when defined as a self-regulation strategy that businesses undertake to show the public that they are willing to take responsibility for the environmental and social consequences of their actions. This can be set forth in Corporate Social Responsibility (CSR) statements, using and referring to a code of conduct.
The environmental impact of the Finnish market is becoming increasingly attractive for investment, especially for M&A entries in hydrogen, battery factory and giga-factory projects, and wind-power industry. There is a progressive hydrogen cluster in Finland, consisting of clean tech, energy and smart tech companies. There is a huge potential for environmental focused cross-border M&A transactions.
QUESTION THREE: Corporate acquirers are facing stiff competition from private equity players on the global stage, changing the pace of overseas M&A. What's your advice to clients trying to navigate this competitive, fast paced M&A market?
In Finland, the amount of private equity funding in 2020 almost doubled from the level of 2019, and in five years the amount has tripled. To successfully navigate this competitive market, corporate acquirers should focus on target companies at the right stage of growth, operating in suitable business fields, and owned by shareholders, motivated to gain value typical to acquisition and not-typical to private equity investment. Private equity investors are active and temporary growth-oriented owners in unlisted startups and growth companies. Among other things, private equity investors can provide a combination of capital, expertise and networks to support the growth.
Acquisition is typically used to explore new options with local players, reshape the emerging industry and adapt through acquiring underperforming competitors or part of their supply chain. Companies that want M&A growth are seeking crosssector targets to broaden their product and service offering as well as expand their addressable market and consolidate existing market share. When M&A transaction is used to acquire technology companies or innovative start-ups, the businesses are looking to acquire technology, talents and new production capabilities. In classifying corporate stock and debt, the freedom of contract applies to some degree to corporate law issues.
In Finland, there is no minimum requirement of share capital, and a corporation has the power to create and issue shares, all in a single class or divided into two or more classes. Accordingly, a corporation may issue convertible bonds and shares.
As an alternative to equity securities, capital transactions may be structured in the form of secured or unsecured loans, which may contain a clause giving the lender the opportunity to participate in the growth of the business beyond the passive receipt of the principal and interest payment.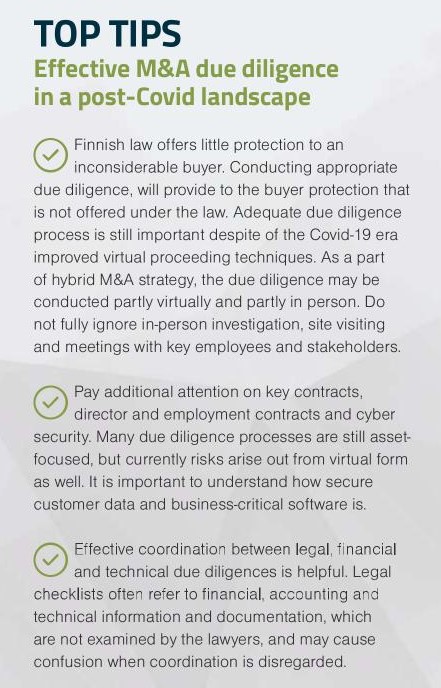 The global pandemic has opened new opportunities for cross-border trade, but there are regional pitfalls that businesses need to be aware of.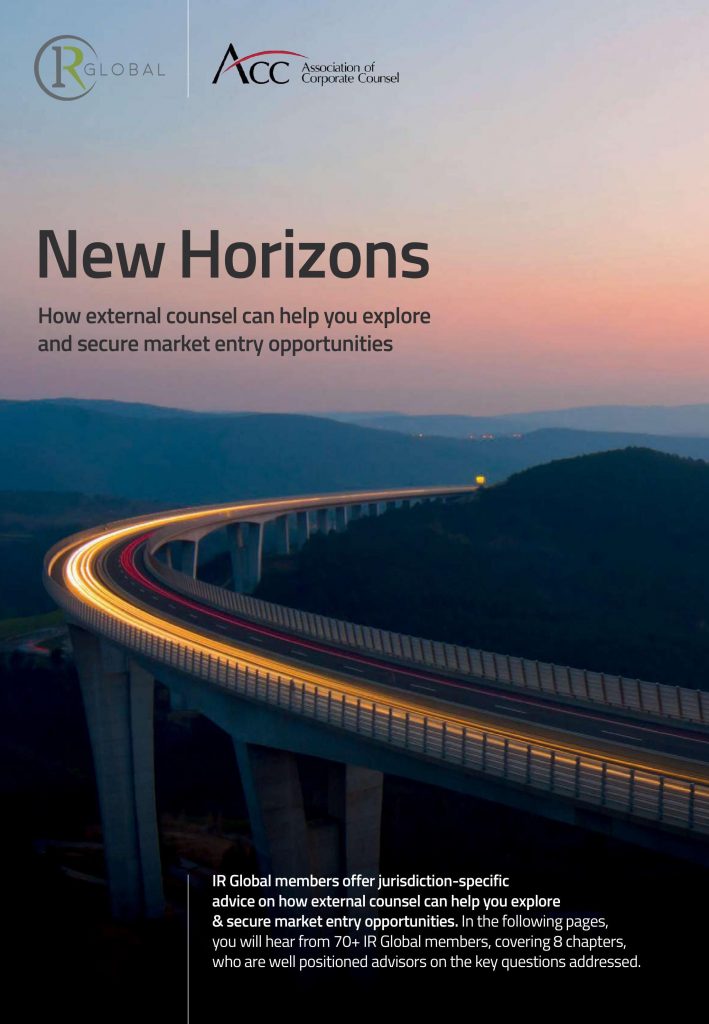 Download the whole IR Global Publication "New Horizons: How external counsel can help you explore and secure market entry opportunities" here: https://www.irglobal.com/ir-global-acc-new-horizons/