Helsinki Airport Main Terminal project has been selected as the world's best building information modelling project in the prestigious Tekla Global BIM data modelling competition.
In short, alliance mode includes joint liability towards risks and benefits, common goals, joint decision making, responsibility collaborative work since day one and working within the best interest of the project. Earlier in December 2021, when Aliant experts discussed the commercial real estate market situation post Covid-19 in Aliant webinar, Tuomo Kauttu, managing partner of Aliant Finland noted the importance and benefits of alliance model. He summarized that alliance model is a contract model involving several players and creating a structure of organization. Collaborative parties work towards the shared goal through shared objectives. Alliance model is especially beneficial and can solve several problems in large and complex projects and can turn out reliable in terms of contract period and costs.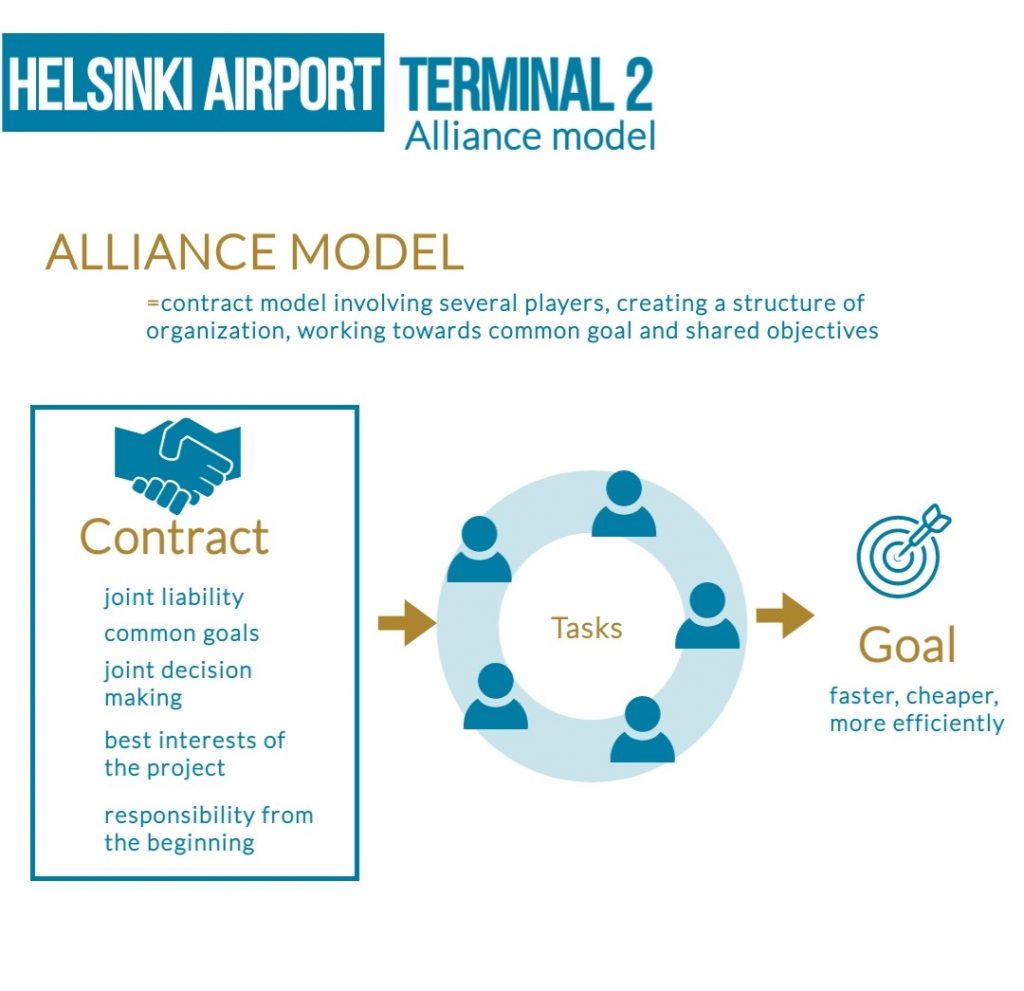 In the prestigious Tekla Global BIM data modelling competition, Helsinki Airport Main terminal project won the world\s best building information modelling project category. Among 132 projects, including, the winners of Tekla regional BIM Awards from 37 countries, the terminal project was also the winner of the best public space category.
Working under alliance model, Finavia together with SRV, Arkkitehtitoimisto ALA, Arkkitehtitoimisto HKP and Ramboll Finland, created more than 400 models for the terminal extension, that included both, the airport\s new departure and arrivals hall and the entrance.
According to Henri Hansson, manager of Helsinki Airport Development Programme, combination of modern technology and cutting-edge data modelling played the main role for systematic and planned progress of the project. Possibility to model every step and detail on the computer led to common understanding of the goals and outcomes for all involved parties.
Nonetheless, first and most well-known successful alliance model was construction of the Lakeside Road tunnel in Tampere. Between 2013 and 2016, five alliance partners created more than 140 innovations related to safety and construction solutions, that reduced the total project budget by approximately 20 million euros and allowed to finish the project six months earlier than planned. The alliance shared the risks of the project using agreed pain-gain formulas, meaning that cost overruns or schedule and cost savings produced a penalty or benefit for both the client and the contractor. As a result, more than 2 km long tunnel, sited in the middle of industrial city, underneath old buildings, roads, a railway and a river link was built. This project showed that alliances can be created by following the national procurement rules and therefore alliance model has been used by the City of Tampere in other projects, such as Tampere tramway construction.
https://www.finavia.fi/en/newsroom/2022/building-information-modelling-finavia-and-its-alliance-partners-selected-best-world