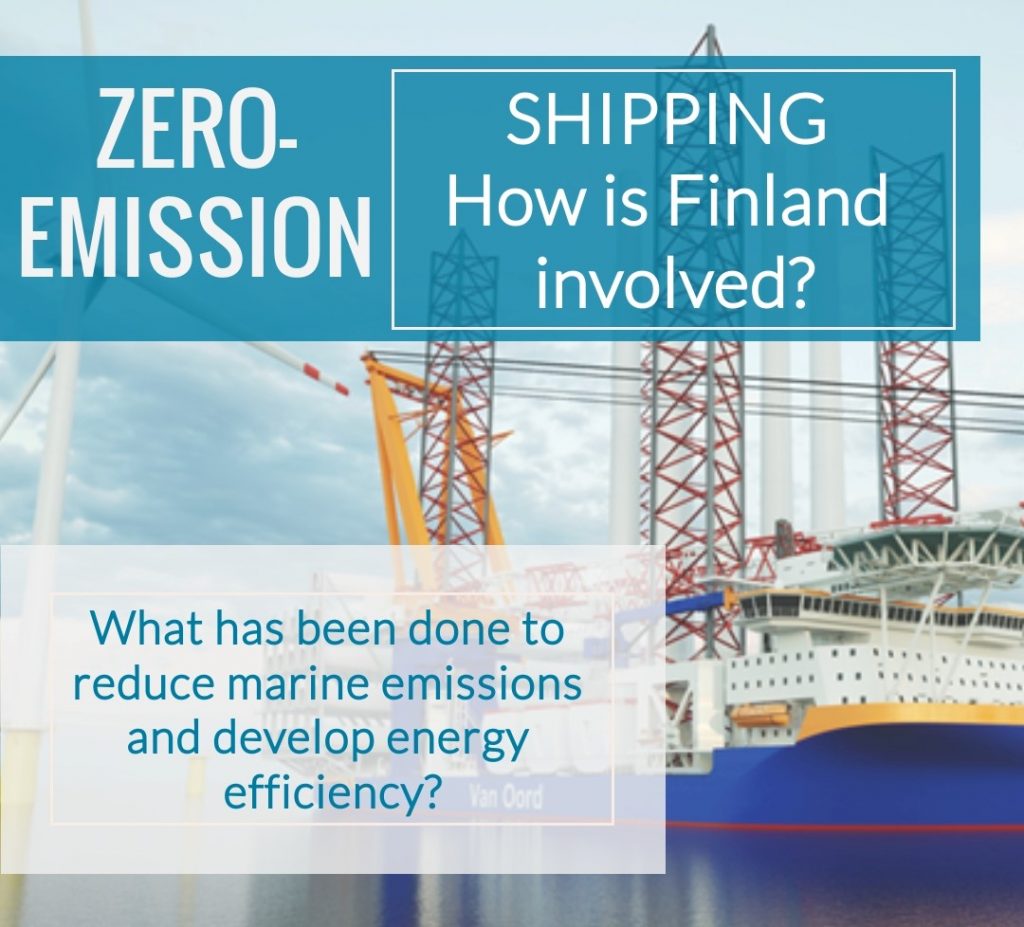 By Dārta Dindune, Aliant Finland. In 2018 an idea aiming to find the "fastest route to zero-emission shipping" and potential partners that came from Finnish maritime and energy innovation company Wärtsilä, operating in the field since 1834 and involved in many recent advances in the industry, materialized into Zero Emission Energy Distribution at Sea (ZEEDS) initiative launched in January 2019. Such companies as Aker Solutions, DFDS, Equinor and Grieg Star joined Wärtsilä not only to make zero-emissions fuels available to the shipping industry but also to provide for efficient distribution infrastructure by creating offshore platforms.
While first green-ammonia fueled tank ship for transporting ammonia is planned to be launched in 2024 after several technologies will be tested and whilst other projects for offshore platforms and supply chain are still being developed, already in December 2021, Wärtsilä launched a new four-year "Zero Emission Marine" co-operation project aiming to reduce greenhouse gas emissions from the marine sector and develop sustainable technology solutions that can later be expanded into the energy sector as well. Almost 200 participants engaged in a project, which has received 20-million-euro funding from Business Finland, will cooperate to develop 9 technology and energy storage systems for sustainable carbon-neutral fuels.
Additionally, in January 2022 Wärtsilä announced its first order from Dutch contracting company Van Oord for 5 newbuild methanol-fueled engines that will power a new offshore wind installation vessel with the delivery of methanol fuel supply system equipment scheduled for the year 2023, as well as informed about the supply of engines, fuel storage and supply systems for 3 first time ever built LNG-fueled RoPax vessels for the Polish maritime sector.
Why is there a need for new technological approaches?
Global warming is causing a climate change. Considering the maritime field, Kyoto Protocol, which entered into force in 2005, together with Marrakesh Accords implementing it, contains provisions for reducing greenhouse gas (GHG) emissions in both the aviation and shipping sectors.
In 2011, the International Maritime Organization (IMO)- a specialized agency under the United Nations framework entrusted with inter alia prevention of marine pollution from ships – adopted first mandatory global energy efficiency measures for international shipping through resolution MEPC.203(62).
Energy Efficiency Design Index (EEDI) stating technical and operational requirements applicable to ships of tonnage above 400 gigatons and contracted for or delivered 2013 or 2015 retrospectively and setting minimum energy efficiency level as well as Ship Energy Efficiency Management Plan (SEEMP) applicable to all ships are encompassed under MEPC.203(62) and mandatory since 2013.
The package aims to reduce shipping emissions and improve the energy efficiency of existing ships. Additionally, a mandatory Data Collection System for ships over 5000 GT to collect and report fuel oil consumption data was adopted in 2016. In June 2021, short time compulsory measures requiring all ships to calculate their Energy Efficiency Ship Index (EEXI) and to establish an annual operational carbon intensity indicator (CII) as well as its rating was approved by IMO to reduce the carbon intensity of all ships by 40% till 2030.
Several proposals for further reduction of GHG emissions has been discussed, voluntary measures agreed on and strategies adopted by IMO Marine Environment Protection Committee with the goal to reach a reduction of GHG and CO2 emissions.
Get more information here:
https://www.imo.org/en/MediaCentre/MeetingSummaries/Pages/MEPC-74th-session.aspx
https://wwwcdn.imo.org/localresources/en/OurWork/Environment/Documents/Technical%20and%20Operational%20Measures/Resolution%20MEPC.203(62).pdf#:~:text=RESOLUTION%20MEPC.203%2862%29%20Adopted%20on%2015%20July%202011%20AMENDMENTS,energy%20efficiency%20for%20ships%20in%20MARPOL%20Annex%20VI%29
https://www.wartsila.com/media/news/24-01-2022-wartsila-hits-methanol-milestone-with-first-newbuild-engine-order-3039731
https://www.wartsila.com/media/news/15-02-2022-wartsila-solutions-open-route-to-decarbonisation-for-poland-s-first-lng-fuelled-ropax-vessels-3051558